MADES, which has been located in Malaga since 1990, is a key player in numerous programmes both within Spain and internationally, in cutting-edge sectors such as aerospace and defence.
This experience allows it to diversify its area of business into high-reliability industrial applications, underscoring its presence in medical, automotive and energy markets among others.
The services we offer are guaranteed by various quality certifications:
ISO 9001 | Nadcap 7120 Electronics | NATO AQAP 2110 | EN9100 Aerospace and Defense
Customer Special Process Facility Qualified | IATF 16949 – Automotive* | ISO 13485 – Medical*
*MADES manufacturing processes and Quality System are aligned with the requirements of ISO 13485 and IATF 16949.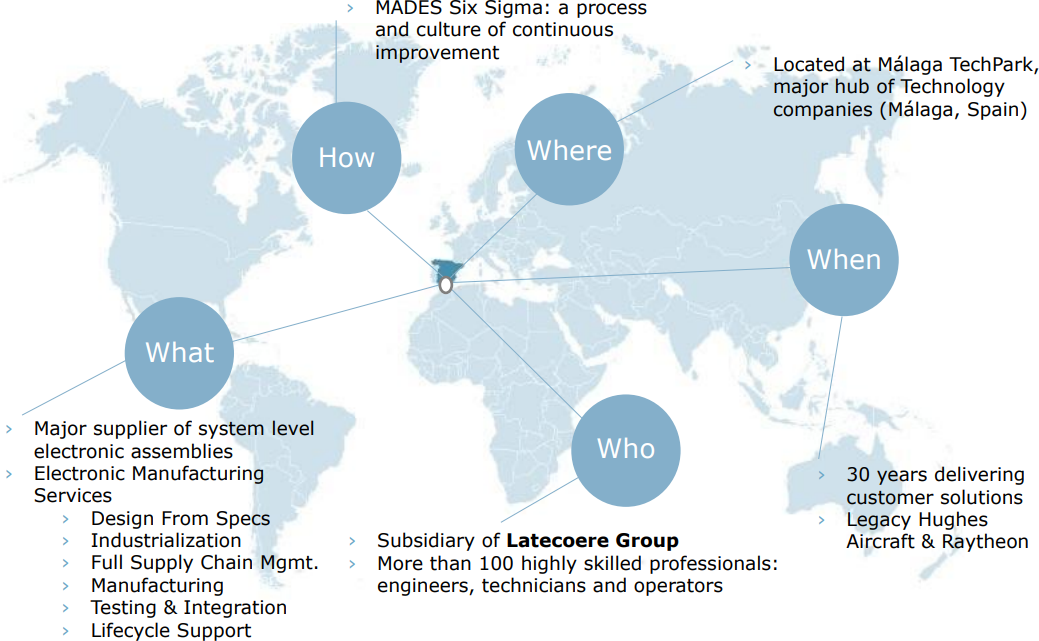 OUR VISION
MADES' vision is to be the world's leading supplier of precision electronics while complying with all existing requirements, and to exceed our clients' highest expectations. We want to assure our clients that their orders will be implemented using the most sophisticated manufacturing processes and the most advanced technology available, by passionate experts whose management systems are highly stringent.
OUR MISSION
MADES uses its rigorous Six Sigma programme as a means of achieving ever-higher levels of value for our clients. We employ these principles with the aim of attaining perfection. They form the basis of our corporate culture: mission assurance.
MADES has built its reputation by creating the most demanding high-precision electronic systems. "Demanding" means that the end user frequently trusts the electronic systems in his or her products to work perfectly at a critical moment. Our clients depend on us to do our job properly, so that they can do theirs. Our corporate culture is their quality assurance.
RIGHT TEAM, RIGHT TOOLS, RIGHT THE FIRST TIME
Founded in 1990, MADES was the first company to set up in the Andalusia Technology Park as Hughes Microelectronics in April 1992. Shortly afterwards, in 1997, the plant became part of the Raytheon Company following the acquisition of the Hughes Aircraft division, to which we belonged.
Now as MADES, 30 years on, the facility continues to be a major player in the industry. From the start, we opted for Malaga as an epicentre from which we could harness growth potential and the range of opportunities to offer competitive services for the manufacture and integration of electronic systems, both within Spain and internationally.
In fact, MADES has evolved to the point where it has become a leading supplier of high-precision electronic systems and subsystems for the aerospace, defence and industrial markets.
A company can only be sustainable if it evolves continuously, in terms of both talent and capability.
The main changes can be seen in our team. The growth and development of our workforce has enabled MADES to become a technological partner of leading aerospace and defence companies, typically tier-ones and major contractors.
This experience allows us to diversify our area of business into high-reliability industrial applications, where we can underscore our presence in the medical, automotive and energy markets among others.
These improvements should also be applied to capabilities. In this respect, the constant investments in equipment keep MADES at the forefront of technology. Primarily, we strengthen our product development and industrialisation offer, basing our strategy on the needs of our clients. MADES is aware that one of the main challenges facing the industry is bringing innovative ideas and projects to the market at competitive prices and in a record time.
INSPIRING, DISCOVERING AND CREATING TOGETHER FOR MORE THAN 30 YEARS
1990

Hughes Microelectronics Europa España sets up in Malaga.

1992

Opening of the plant in the Andalusia Technology Park. The first microchips for pet identification are manufactured, along with prepayment keys and driver assistance systems, including airbag control modules. Airbag control modules make it possible to develop best practices in process control, advanced quality, continuous improvement and lean manufacturing, thus broadening our multinational scope.

1997

Raytheon acquires the plant in Malaga, which changes its name and comes to be known as Raytheon Microelectronics España. Among other lines of business, it starts a new production line to make "fishfinders" and sonar modules for Raymarine.

2003

The factory in Malaga joins ELCAN Optical Technologies, a division of Raytheon. We complement its optical capabilities with our presence in Europe and the support we provide for its electro-optical systems. We begin to manufacture the first electronic systems for aeronautics and defence, applying the best practices we have developed over the first 10 years of experience in critical industrial and automotive electronic systems.

2011

As part of a high-level restructuring operation within Raytheon, the Malaga plant splits from ELCAN, and becomes known as Raytheon Spain. With a greater focus on our electronic manufacturing capacities and new investments in process control and reliability, we increase our value offer for clients, opening new programmes and lines of business both within Spain and internationally.

2015

The North American group American Industrial Acquisition Corporation (AIAC) acquires the Malaga plant from Raytheon. Our name changes to MADES (Malaga Aerospace, Defense and Electronics Systems). We retain our strategy, systems human resources and clients, which form a solid basis for future growth. The Malaga plant now has greater freedom when exploring different opportunities and markets. AIAC undertakes to keep improving the robust systems it has inherited, and to invest in expansion and technological development efforts.

2022

Latecoere, a leading partner of major international aircraft manufacturers, acquires MADES in May 2022. The acquisition of MADES provides Latecoere with vertical integration opportunities, better meeting the full product requirements of its Electrical Wiring Interconnection Systems ("EWIS") customer base. MADES will develop Latecoere's position in the US Defense market segment and will create significant synergies within the Interconnection Systems division, reinforcing the #1 position for avionic racks and providing new solutions to serve the future generation aircraft. At the same time, Latecoere will strengthen MADES' position in its current diverse markets and will provide additional access to new customers in the aerospace segment.

MADES is totally committed to delivering high-quality products and achieving 100% customer satisfaction and recognizes that adopting quality management systems is our key to do business.
In support of this, MADES is certified to the following standars:

As a "Tier 1" international partner of the world's major aircraft manufacturers (Airbus, Boeing, Bombardier, Dassault, Embraer…), Latecoere serves aerospace with innovative solutions for a sustainable world.
The Group is active in all segments of the aeronautics industry (commercial, regional, business and military aircraft), in two areas of activity:
Aerostructures (46% of turnover): aircraft doors (worldwide independent leader) and fuselage sections.
Interconnection Systems (54% of turnover): wiring (#2 worldwide for aeronautics, #1 in Europe for space), avionics racks (#1 worldwide) and on-board equipment.